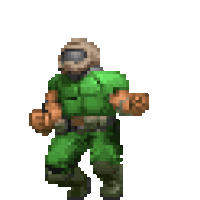 KAR EN TUK
Member
Messages: 14
YouTube
i think the artstile changed becouse of 2 reasons (this is my opinion and i have no sources) : 1. to feel next gen even if it wasn't ; this is a thing that happened to halo too , in the anniversary of   halo ce ( halo combat evolved) , 343i give halo a new art stile whit a higher saturation of colors   and more lighting , that many people didn't like but it definitely looked new .
 2. a gameplay reason becouse all4one has a fixed camera and that means looking at the  character you are playing becomes harder becouse the camera needs to make visible all of the   characters that are playing , and becouse in all4one you can play as 4 characters per time it   really needs to get far away , to make the characters stand out more the developers give them   a bigger head.
readers , if you think there are more reasons or one of mine are wrong reply , i'll be happy to read what you think .
---