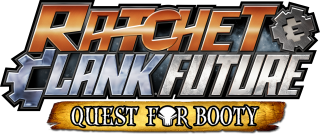 General info
Developer: Insomniac Games
Editor: Sony
Writer: T.J. Fixman
Composer: David Bergeaud
Notable staff:
Brian Allgeier (Creative director)
Release dates:

Aug 21, 2008 (Digital)


Aug 21, 2008 (Digital)


Aug 22, 2008 (Digital)

Sep 12, 2008 (Box)
System: PS3
Format: PSN, BluRay

Access game's forum
Buy on Amazon
---
Description
This episode is a short adventure of a few hours and is the first Ratchet & Clank to be published digitally. For $20 when it came out in 2008, Quest For Booty acts as the bridge between the first and last chapters of the Future trilogy and focuses on the search for Clank after what seemed like a kidnapping by the Zonis at the end of Tools of Destruction.
Synopsis
Ratchet and Talwyn received a clue about Clank's location thanks to the IRIS supercomputer. It seems that solving the mystery surrounding the pirate captain Angstrom Darkwater could be the key to understanding the Zonis. The duo ends up on planet Merdegraw in the Drogol sector where they meet again with Rusty Pete who also wants to find Darkwater...
Official websites