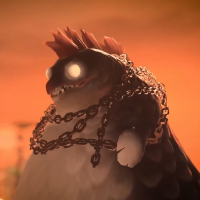 Hail Salmon king
Member
Messages: 9

1.ACIT . This might be a bit controversial but i think that the battleplax challenges have got every thing that the last ones had plus more . The boss fights i think are pretty good .
2.UYA . They are the ones who introduced a lot of the staple challenges . I put it here just because i just don't really like UYA , it might be because i own the HD Trilogy version , the game just feels very bad to control and the levels are very one dimensional . This dosen't really have anything to say on the arena it is more on the overhaul game but it sill makes me prefer the ACIT arena .
3. GC . This was the arena that introduced them all . For being the first one it is very well done but it is the same reason it is in the third spot , missing some of the challenges introduced in UYA but it is not really it's fault . The bosses i think are very iconic but other than that Cainblade is a bit too simple to beat and B2Brawler is , in my opinion , frustrating .
4. TOD . It was a very cookiecutter one whit not a lot going on . One of the challenges is about beating Crushto and Zorthan in a tag team and it felt very unbalanced becouse Crushto is very easy to beat at that part of the game not being able to take a lot of damage , they should have gave Crushto some tipe of boost . 
I haven't played RA and ITN , the later one because the disc i bought was in terrible conditions and couldn't load the cutscene for level two . 
---