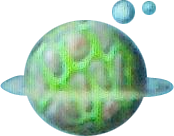 Venantonio
Secret Laboratory, Venantonio canals
Titanium bolts:

2

Skill points:

9

Alien codes:

3
---
Soundtrack
Venantonio - Underground Lab

Venantonio - Underground Canals

Venantonio - Madam Butterqwark - Verse 1

Venantonio - Madam Butterqwark - Verse 2

Venantonio - Madam Butterqwark - Verse 3

Venantonio - Madam Butterqwark - Verse 4

Venantonio - Madam Butterqwark - Verse 5

Venantonio - Madam Butterqwark - Verse 6

Venantonio - Madam Butterqwark - Finale
---
Collectibles
Skill Points
Clank
All Slime Must Burn: Complete the level killing amoeboids only with melee attacks and the Blowtorch Briefcase.
Ramming Speed!: Kill 10 amoeboids by ramming a small engine box into them.
Qwark
Twinkle Toes: Get a 5-chain of butterfly bounces without touching the stage.
Magnum Opus: Beat the entire opera without getting hit.
Sold Out: Get 150,000 Box Office sales.
Special Mission
Evasive Maneuvers: Dodge 8 torpedoes using the Hydrofoil.
Deep Six: Don't get hit by seeking mines.
Wake Of Destruction: Destroy everything, bridges, tunnels covers, et cetera.
Ringmaster: Collect all the rings in the Threading The Needle challenge.
Titanium Bolts
Clank
In the room where you got the Blowtorch Briefcase there are two doors which require it's use to open. In one of them there is a conveyor belt that can be destroyed with a Cufflink Bomb. When you do, a titanium bolt appears.
In the last area before you move on when you can move all the platforms around, if you go to the shorter platform on the left as opposed to the one that advances the story you will find another titanium bolt.